The List of Products We Offer
At R.L. Pritchard & Co., Inc., we carry a variety of jute products & can customize to your specifications.
CRT or Constant Rate of Traverse Jute yarn is yarn of higher quality and strength. They are spun on machines running at very high speed. Composition is 100% Jute, a natural plant product.
These yarns may be packaged as spool size 10" travers, 14" diameter, and 1" spool bore. (10"x14"x1")
Each spool weighs 18 kg. 72 spools stacked on a pallet, weighing 1300 kg.
10 pallets per 20' ocean container, weighing 13 Metric Tons, or 20 pallets = 26 Metric Tons per 40' container.
Please contact us with your requested specifications.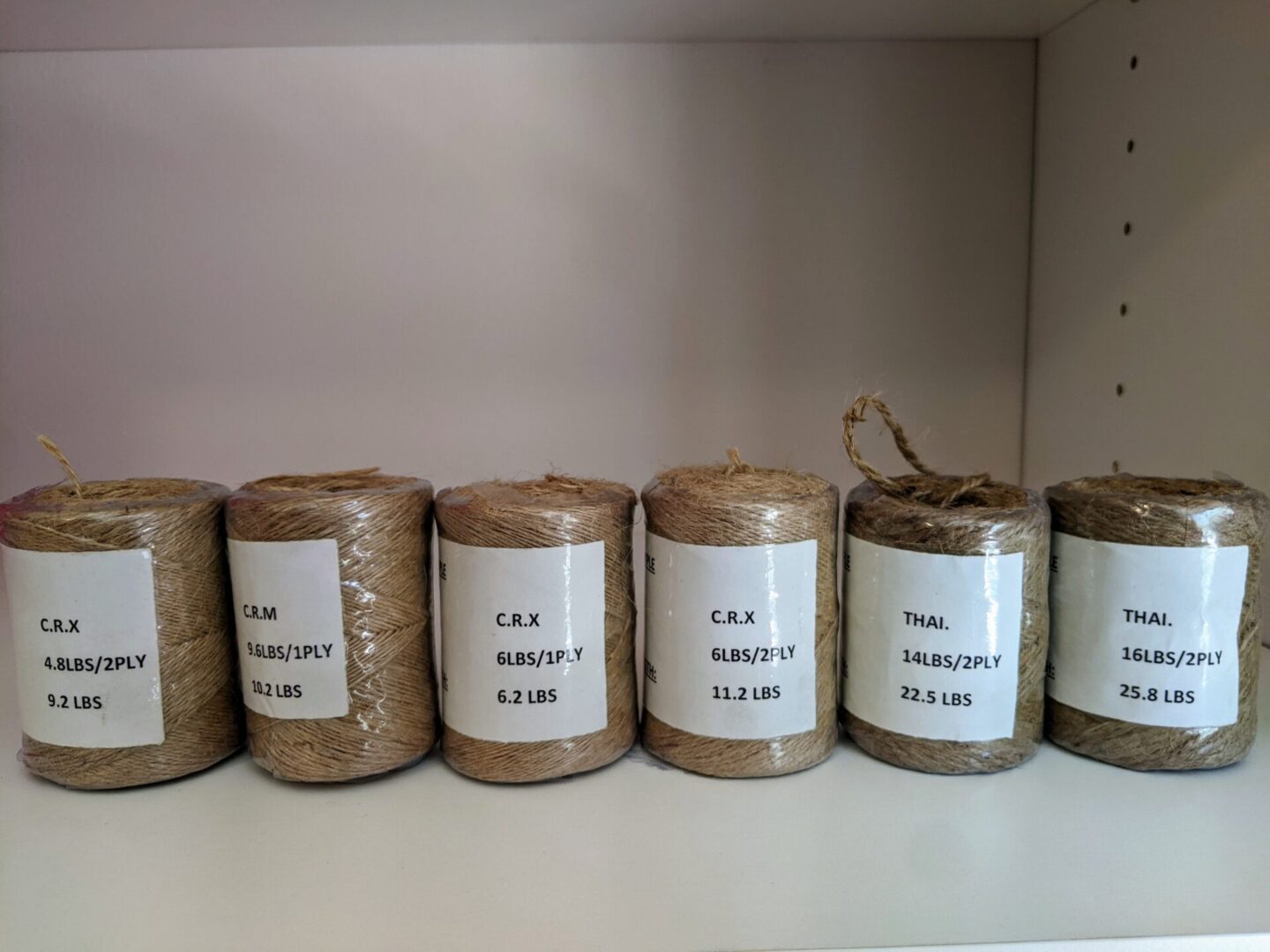 Jute Felt is comprised of matted, compressed jute fibers. It is 100% biodegradable and degrades to form humus, without leaving harmful residue traces. Jute Felt is being increasingly used as an industrial product, for insulation and acoustic. The product insulates the soil against extreme temperatures and hence helps in the survival of plants. The Jute Felt absorbs moisture, up to 5 times its own weight and therefore provides water to plants during dry periods.
Jute Felt also plays an important role in every aspect of landscape design. Felt can be used to block weeds and sunlight, while allowing water and fertilizers to pass through. When laying mulch, Jute Felt can hold it in place, even on steep slopes.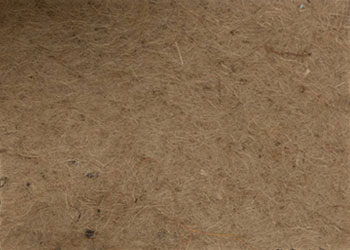 Jute felt is useful in promotion of vegetation in a difficult environment. Jute Felts are excellent insulators and protect trees from extreme weather. These soak moisture and release it to the tree in drier times. Jute Felt is used in tree nursery field. It is useful for mulching and weed management.
Non-Woven Jute Felts are also used in construction of roads & laying of railway tracks to strengthen the subsoil, keeping it from moving or slipping away. On sites such as riverbanks & slopes. Jute based products are also extensively used for protection & stabilization.
Usage – Horticulture, weed controlling, plant frost cover, tree trunk wrap, animal cover, inner insulation. seat/sofa liner, shoe liner, floor insulator, and decorations.
The life of both qualities differ. Caddies felt has a short life, and Raw Fiber felt has a longer life.
We can provide Jute Caddies felt in qualities from 500 gram to 1000 gram – up to 1.83 meter width
We can provide Raw Fiber felt in qualities from 250 gram to 1000 Gram – Up to 2.1 meter width
Jute Hard Board 4000 gram, 4.7 mm thickness
This product is a smooth, hard board made of dense, compressed natural jute plant fibers.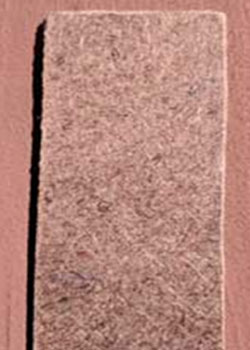 The biotechnical solution
We have a variety of jute fabrics available in different densities and designs.
Please call for more information.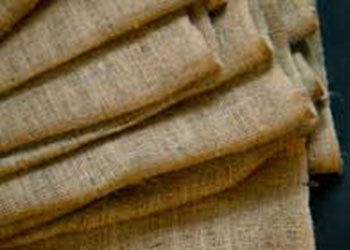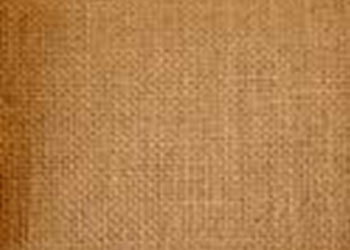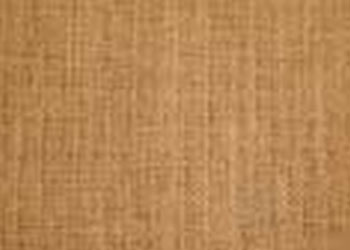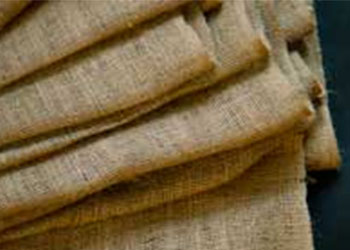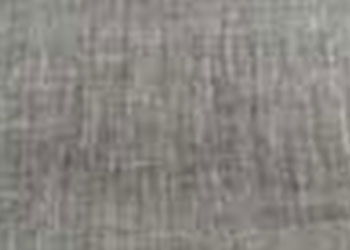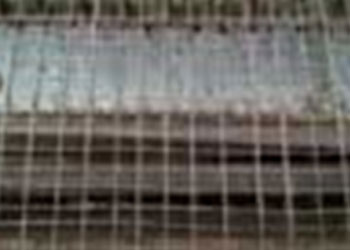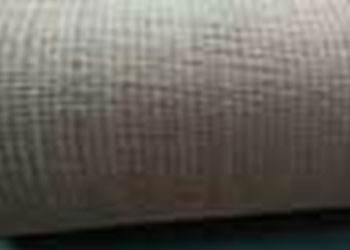 Warp and Weft: 40 x 36 per 10 Centimeters
Width: 40 inches
Fabric Weight: 245 Grams per Meter
Please call for more information.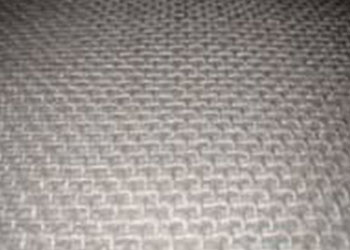 Jute Hessian Cloth - Square Garden Nursery Sheets
Square Garden Nursery Hessian Sheets, Garden Cloth, Landscape Fabric, 100% Natural Jute
80 inch squares
Available as: 2 sides Selvedge and 2 sides Raw or 2 sides Tuck-in-Selvedge, 2 sides single turn Hemming
Warp and Weft: 40 x 36 per 10 CM
Fabric weight: 245 Grams per Meter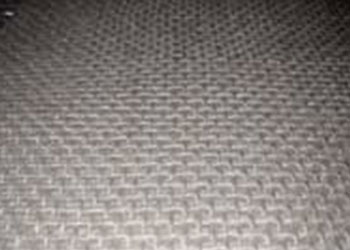 Jute Reusable Shopping Bags
Plain
Description: Made to your specifications in a variety of sizes, fabric weights, and designs.
Composition: Natural jute fiber fabric.
Eco friendly and biodegradable.
Flat webbing handle.
Machine washable, cool water, gentle cycle.
Jute shopping bags help us preserve our landfills and keep plastic shopping bags out of the oceans.
Bags are packed 50 per carton and 300 cartons fit in a 20' container (600 cartons in a 40' ocean container)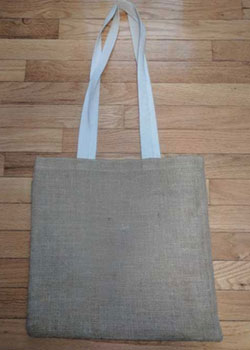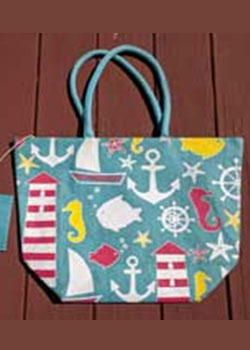 Decorated Shopping or Beach Bag
Interior pocket, a small zippered purse, and zippered lock closure. Flat folded size approximately 20" x 14.5".
Jute Sacking New Standard MOT Binola Bag
Bag size: 44" x 26.5"
Porter and Shot: 6 x 7
Bag weight: 2.0 lbs = 907 grams
Also available as Binola cloth
Porter and Shot: 6 x 7
Maximum width: 29.7 inches
For Coffee/Tea/Food Grains/Sand bags manufacturers of the different packaging companies of the USA.
Please call for more information.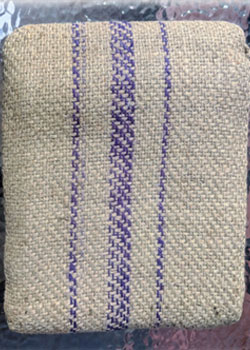 D.W. Sacking bags (VOT Jute Bags)
Size : 40"x 29"
Weight of the bag : 740 grams
Heracles sewn or overhead dry sewn ( as per customer's choice), hemmed at mouth, VOT (Food Grade) this bag is made by L-Twill cloth of Porter & Shot 8x8 without any stripe
500 bags per bale
16 bales per 20' container
13,697 lbs or 6,212 kgs
Please call for more information.
Quality : Jute Sacking Rope
Diameter : 6 MM or 8 MM
Number of Strands : 3
Twisted, Natural
Packing process : 732 meters per Roll or larger 4,800 feet per roll packed in Poly wrap and in Jute bag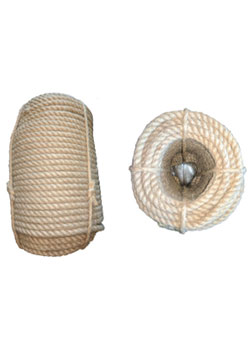 The biotechnical solution
Jute SOIL SAVER creates the vegetative, micro climate your distributers' customers are asking for. Used for over 30 years, soil saver is well known, 100% organic and 100% biodegradable at decomposition rates controllable by weights ranging from 250 grams to 1000 grams! Highly absorbent and toxin free, jute retains 5 times its weight in water, out-performing synthetic netting and its' reputation for trapping wildlife, twisting in mower blades and leaving inert pollution for future generations.
Requiring very little handling, soil saver is sold "as is", accordion folded, or rolled in 4 foot, and hand knotted 8 foot widths.
Advantages
Solutions to a Multitude of Erosion Control Problems
Used to solve erosion control problems for over 30 years

Approved by most state DOT

Easy installation

Anchored with staples

Totally biodegradable

Absorbent - up to five times its own weight in water

Drapes extremely well to ground surfaces holding soil and seed in place

Takes hydro seeding before and after installation

Allows over seeding after installation

Allows over seeding after vegetation is established
Aids in preventing undercutting

Used with any grass or ground cover

Eliminates synthetics

Non toxic

Acts as a soil nutrient - puts back over two tons of rich organic matter per acre relative to weight

Ideal for bio-engineering applications

Natural fiber, un-dyed and unbleached

Earth tone color blends with environment

Suitable for all climates, soil, and most terrain

Has been successfully used on slopes up to 1:1
Price advantage over stitching netting and filler to make blankets

Sold "as-is" single layer netting

Minimal handling

Stores "stacks" easily and is flexible

Loads easily
Zero toxicity, zero warehouse off-gassing

Width options: 4' or 8' widths

Gram weights from 250 to 1,000 grams

Purchase in 20', 40' & mixed containers
JUTE TWILL BAG - Weight of each of this bag is 1020 grams or 2.25 lbs of size 44"(length) x 26.5" (width)
JUTE B-TWILL CLOTH of Porter & Shots - 6x8, maximum width of this cloth is 29.7 inches
VOT Vegetable Oil Treated food grade bag
JUTE L-TWILL BAG - Weight of each of this bag is 1134 grams or 2.50 lbs of size 44" (length) x 26.5" (width)
JUTE L-TWILL CLOTH of Porter & Shots - 8x8, maximum width of this cloth is 29.7 inches
Jute Yarn Precision Wound
RL Pritchard imports yarn from our exclusive mill in Bangladesh.
Our jute yarn is 100% high grade Tossa, maximum twist and spliced with no knots.

Each spool is individually poly wrapped.

Spools are palletized on double stacking pallets.

Yarn is available in 14 lb to 250 lb weights, precision wound and packaged to your specifications

We provide custom labels and color codes to meet your requirements.

We guarantee consistent fine quality and assure delivery.

This yarn is utilized primarily in the electrical cable, mining and elevator industries.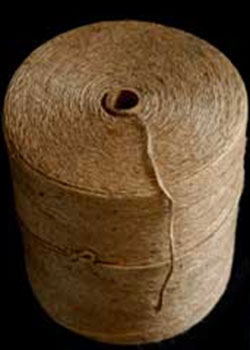 Jute Erosion Control Netting
Jute Leno Weave - also known as Jute Erosion Netting, Bio Net Mesh, Hessian Scrim Cloth Fabric
Jute Plain Cross Weave -  also known as Hessian Scrim Cloth
RL Pritchard has two dedicated jute mills in India, which are our exclusive suppliers of 100% jute leno weave netting and cross-weave netting. We offer prompt delivery.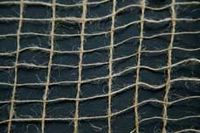 Jute Leno Weave  and Cross-Weave
Meeting any specification, we offer a variety of gram weights and weaves to produce widths up to 200 inches.
The netting is rolled onto a core diameter of your choosing.
Each roll is carefully packaged and labeled.
We offer jute netting in 20 or 40 foot containers directly from overseas to your door.
We also maintain stock in the USA for smaller quantities.
Please call for current pricing.
Available in:
1100 gram
1000 gram
900 gram
Home furnishing quality finished product
72 inch width rolls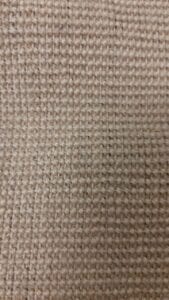 The tight weave of our Jute wattle tubes contain the small pieces of packing material that would fall through wattle netting. It doesn't take long to realize savings by utilizing your waste. Fabric weights 5 oz and up enable  you to accurately estimate wattle life. Loading wattle machines couldn't be easier.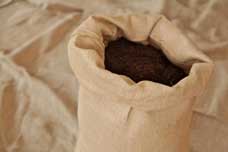 Uses
Advantages
Allow you to retain your stuffing material with jute fabric versus coir netting.
Nontoxic, Nonpolluting, Biodegradable, Wildlife Safe.
Weights range from 5 oz. and heavier, depending on your required life expectancy.
Sales and Handling
A variety of weights are available for any application and decomposition rate
Mixed container orders make ordering smaller amounts a reality, allowing you better control over your inventory
Our assured 8 week timeline supports your inventory projections
Protection of slopes in road and railway embankment

Bridge approaches

Terraces in hilly terrains

Stabilization of sand dunes

Promotion of quick vegetation in areas denuded by natural disasters and normal erosion

Stabilization of waste-dumps

Golf course construction and maintenance
Embankments and slopes

Civic beautification

Landfills

Highway construction

Landscape improvement

Sod stabilization

Lakes and stream banks

Mining reclamation

Nurseries
Military bases

Industrial and commercial development

Farm and agricultural

Ski slopes

Beach and sand dune stabilization

Pipeline construction

Wetland reclamation

Drainage ditches